Workshops

Strong, Sexy, Singular, Stereotypes: The Power (and the Problems) of Superhero Stories
Public Lecture with Professor Carolyn Cocca, Suny - College at Old Westbury
Tuesday, April 4 | 3-4:30 p.m.
Gold Auditorium at the Donald P. Shiley, BioScience Center
In this talk, Professor Carolyn Cocca draws on her Eisner award-winning book "Superwomen: Gender, Power, and Representation," to explore how representations of female superheroes embody empowering and inspiring images of women, as well as inequalities of gender, sexuality, race, class, religion, national origin, age, and disability. With examples from comics, TV shows, and films, Cocca illustrates the ways in which portrayals of female superheroes have changed over time — and not changed that much over time. More broadly, the talk considers how and why representation matters, and the importance of diverse, authentic representations for building empathy and equity in everyday life.
Carolyn Cocca is a professor of Politics, Economics, and Law at the State University of New York, College at Old Westbury. She is the author of the Eisner Award-winning "Superwomen: Gender, Power, and Representation" and of "Wonder Woman and Captain Marvel: Militarism and Feminism in Comics and Film," as well as numerous articles, book chapters, and online writings on similar topics. She is also the author of "Jailbait: The Politics of Statutory Rape Laws in the United States" and the editor of Adolescent Sexuality and teaches courses about U.S. politics, constitutional law, civil rights and civil liberties, and gender and sexuality.

White Saviors, Green Aliens, Brown Women and Children: Violence and Privilege in "Wonder Woman" and "Captain Marvel"
Faculty Reading Group amd Lunch with Visiting Scholar Carolyn Cocca
Monday, April 3 | 12-2 p.m.
Arts And Letters (AL-660)
At this faculty reading group, Professor Carolyn Cocca will discuss representations of "Wonder Woman" and "Captain Marvel" enacting violence against othered enemies while also protecting similarly-othered refugees. While women superhero soldiers fighting for and caring for oppressed peoples may diversify formerly homogeneously male spaces and foment productive gender trouble, their state-affiliated military violence may also embody only token diversification while shoring up dominant cultural narratives of gender, sexuality, nation, and race. As such, this discussion will explore to what extent such representations have the potential to build empathy for others, as well as to re-center whiteness and privilege.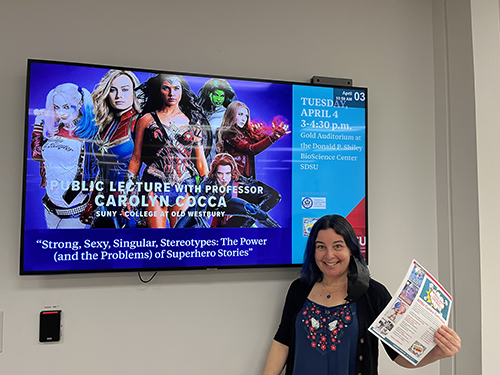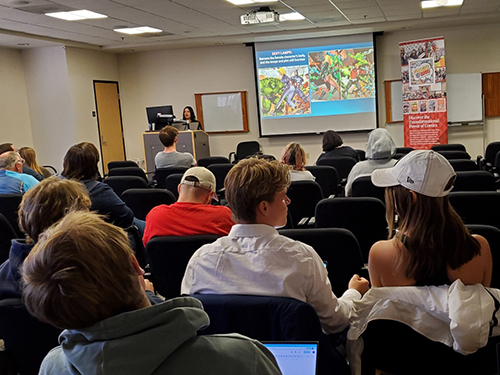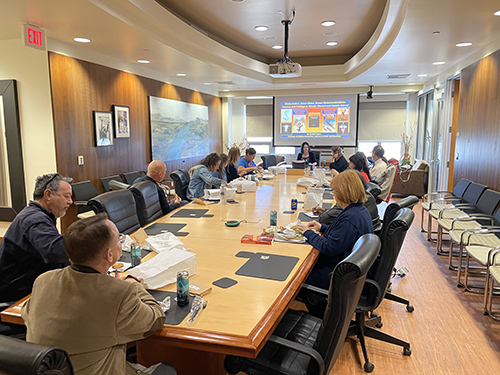 Captions and Corpses: How to Read an EC Comic
Public Lecture with Professor Qiana Whitted, University of South Carolina
Tuesday, Feb. 7 | 3-4:30 p.m.
Gold Auditorium at the Donald P. Shiley BioScience Center, SDSU
In her talk, Professor Qiana Whitted draws from her Eisner-award winning book on "EC Comics: Race, Shock, and Social Protest" to explore the 1950s publisher's effort to navigate between "entertaining" and "educational" reading practices in ways that were alert to public anxieties over how comic books could influence young readers. Her discussion will consider the narrative and aesthetic strategies and justifications that various EC creators used to steer the potential impact of the company's most notorious comics, including "The Whipping" and "The Orphan" from "Shock SuspenStories #14." Exploring their creative choices can offer new insight into the taboo combination of explicitness, incredulity, and reading pleasure that distinguished these 1950s shock comics, while also demonstrating how EC engaged complex social messages amid the thrills and chills.
Qiana Whitted is professor of English and African American Studies at the University of South Carolina. A graduate of Hampton University with a Ph.D. from Yale University, her research and teaching focus on Black literary and cultural studies, and American comics and graphic novels. She is the author of the Eisner Award-winning book, "EC Comics: Race, Shock, and Social Protest" and co-editor of the collection on Comics and the U.S. South. Along with numerous published articles, book chapters, and online writings that explore race, genre, and history in comics, she has written the introductory essay for the recent volume of Black Panther comics for Marvel's new Penguin Classics Collection. Her forthcoming edited collection, "Desegregating Comics: Debating Blackness in the Golden Age of American Comics," will be published in May 2023. She is also the editor of Inks: The Journal of the Comics Studies Society and chair of the International Comic Arts Forum.

All-New, All-Negro: Orrin C. Evans and the Golden Age of Comics
Faculty Reading Group amd Lunch with Visiting Scholar Qiana Whitted
Monday, Feb 6 | 12-2 p.m.
Arts & Letters 660
Faculty reading/lunch group with Qiana Whitted, Eisner Award winning author of "EC Comics: Race, Shock, and Social Protest."
During this research discussion, Professor Qiana Whitted uses the single issue of Orrin C. Evans's 1947 comic book, "All-Negro Comics," as a way of illustrating the stakes of Black popular representation during the industry's Golden Age. She asks what the series characters – including Ace Harlem and Lion Man – can teach us about the stories that African American creators wanted to tell and the pitfalls they tried to avoid in meeting the needs of their readers. This discussion will also consider the issue's engagement with Black culture and respectability politics, gender dynamics, and Evans's publishing and marketing efforts.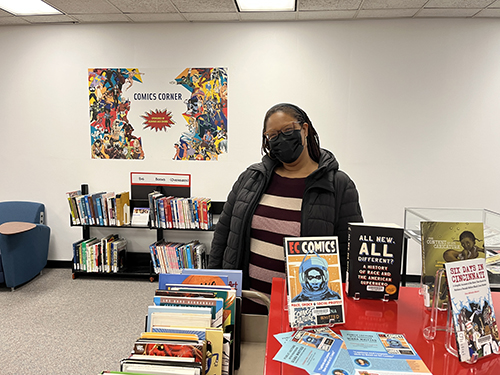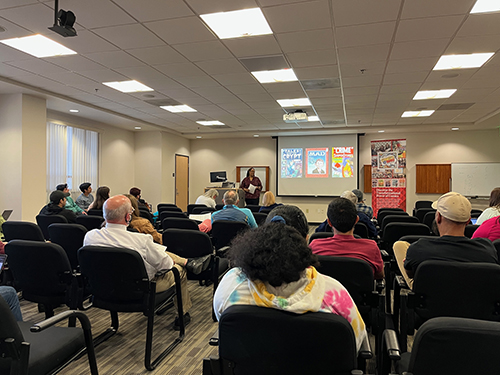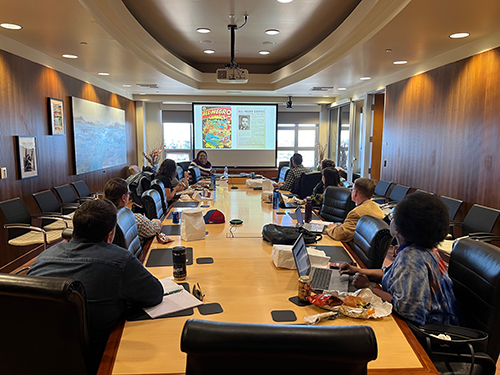 Read the related news coverage on our News and Media page for the grant.