Comics@SDSU at Comic-Con, International 2023
Researchers from across colleges and within the Center for Comics Studies at San Diego State University will share their knowledge — and the stage — at the annual San Diego Comic-Con. Scientists, artists, librarians, and historians will come together to showcase research on topics of social and racial justice, activism, science, and academics, all tied to comics.
Comic-Con Panels Featuring SDSU-affiliated panelists
—


Thursday, July 20, 2023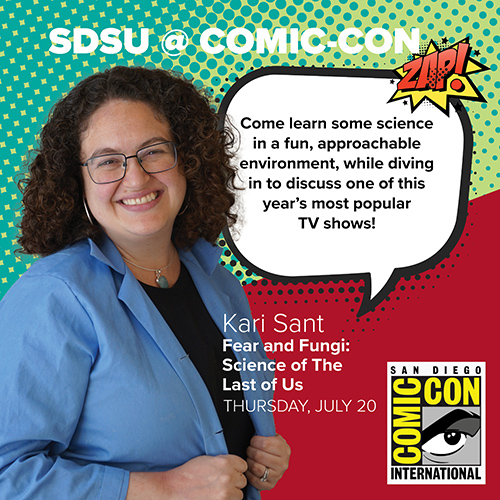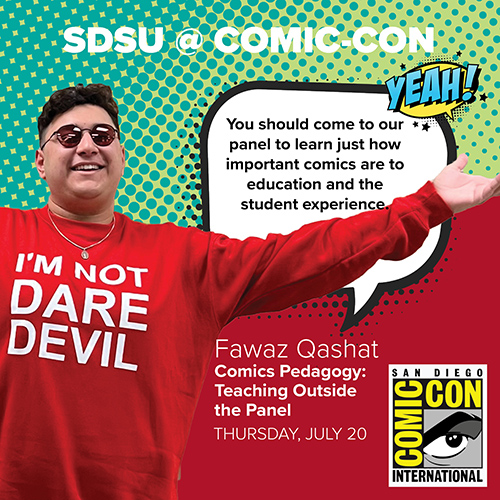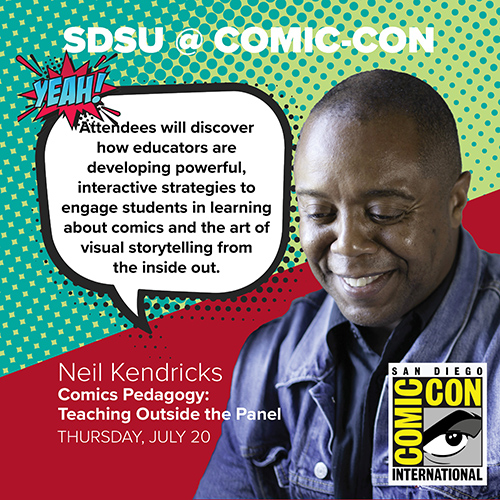 Friday, July 21, 2023
This panel assembles directors and founders of university-level programs and centers for comics studies to discuss the challenges they've encountered and the successes they've achieved in bringing the formal study of comics to universities nationwide. Panelists include
Dr. Elizabeth Pollard
(professor of History; co-director of the Center for Comics Studies),
Pamela Jackson
(comic arts curator; co-director of the Center for Comics Studies), Susan Kirtley (professor of English, Portland State University),
Travis Langley
(professor of psychology, Henderson State University)
and Kate Kelp-Stebbins (professor of English, University of Oregon).
Room: Shiley Special Events Suite, San Diego Central Library
Kumeyaay elders and historians
Ethan Banegas Luiseno Kumeyaay
(American Indian studies, SDSU; historian, San Diego History Center), Michael Connolly Miskwish Campo Kumeyaay Nation (Kumeyaay historian), Lorraine Orosco Kumeyaay-Ipai (education executive direct for San Pasqual Band of Indians), and Stanley Rodriguez Kumeyaay (instructor of Kumeyaay language and director of the board at the Kumeyaay Community College) have teamed up with Jen Shannon (program manager and curator, National Museum of the American Indian), John Swogger (archaeologist and comics creator), and Jewyl Alderson (innovation division, San Diego County Office of Education) to develop a community-engaged comic that speaks from the perspective of the Kumeyaay people, on whose land Comic-Con is held every year. This comic is a way to tell stories of Kumeyaay people from past to present and engage with their own communities, schools, and beyond. Hear more about how tribal historians are driving the work of this visual storytelling project as a creative team brings it to life. Find out about opportunities to engage locally and access tools you can use to dive into a similar project with your community!

Room 29AB
The
Star Wars
series
Andor
speaks powerfully to today's audience about fighting oppression. Examining the first season of the Disney+ series, we will explore the motivations and actions of Cassian Andor, Mon Mothma, Luthen Rael and other characters as they put it all on the line to resist and rebel against the Empire. What type of people are drawn to stand up to tyranny? How do individual dissenters start forming movements? When can you fight inside the system, and when do you have to fight from the outside? Why does this show resonate so well at this time? Join our panel of experts - psychologists, historians, political scientists, and more - as we tackle the nature of the fight to restore freedom to the galaxy. Dr. Drea Letamendi (clinical psychologist, host of the Arkham Sessions podcast),
Desmond Hassing
(lecturer on Indigenous Representation in Popular Media at SDSU American Indian Studies Dept, PhD candidate Theater and Dance, UC San Diego), J. Dianne Dotson (sci-fi author, science writer, biologist), Jake Rowlett (Film Geography PhD candidate SDSU),
Robert A. Dagnall
(MA candidate in Rhetoric & Writing Studies / Instructor, SDSU, and BA Anthropology / English, UC Berkeley).

Room 7AB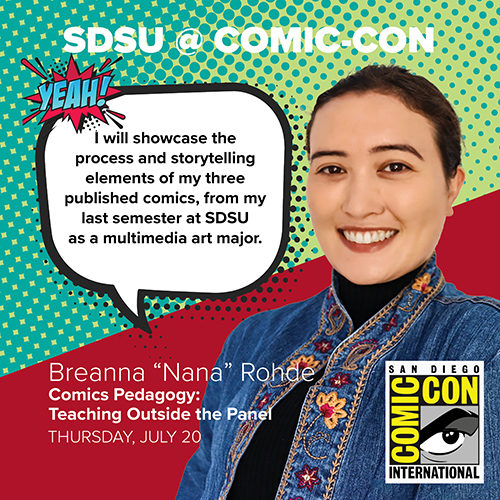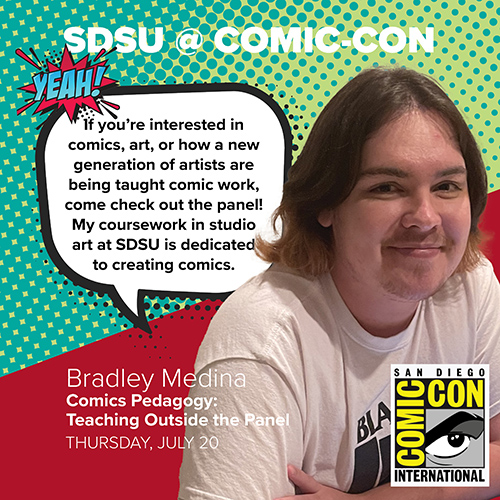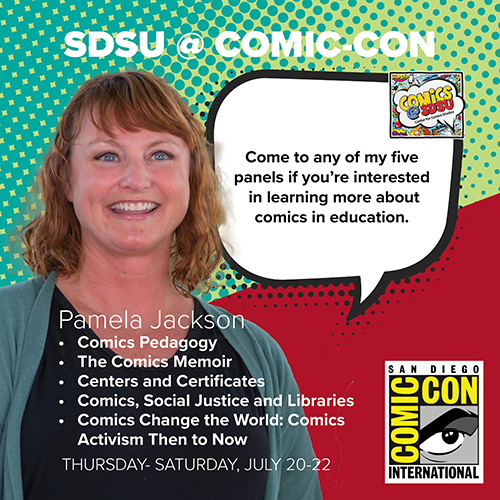 Saturday, July 22, 2023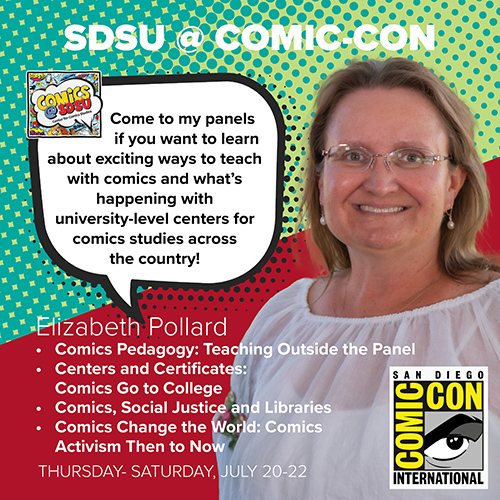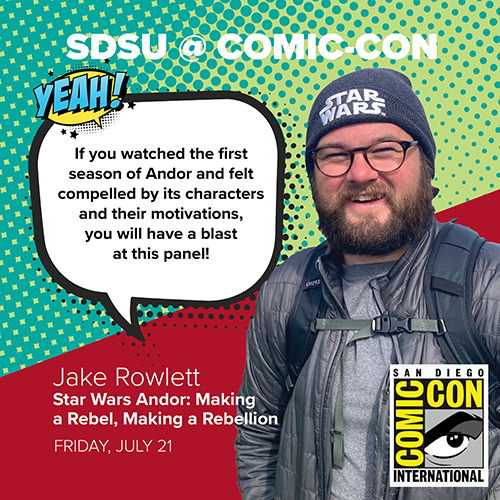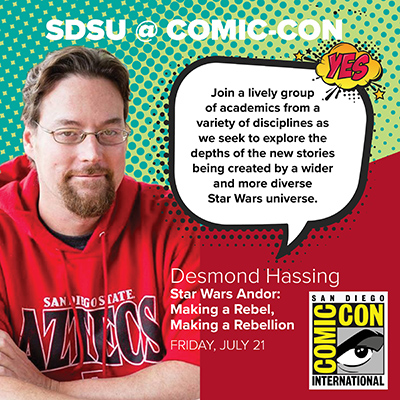 Sunday, July 23, 2023
What kind of justice is served in comics? How does comic justice reflect and influence justice in the world beyond the page? Many comics reinforce the idea that the legal system equals justice, but comics are also cultural sites where real-world problems with the policing and prison industrial complex can be explored. Comics have a complicated relationship with the justice system that both draws on racist tropes of urban areas as sites of danger and also creates opportunities for beloved heroes and anti-heroes to emerge from these settings. Kendall "Boo Boo" Howse (Frameshift Consulting) discusses depictions of urban and BIPOC crime realities from a middle-class white imagining and how these justify extrajudicial punishment as justice.
Diana Leong
(San Diego State University) explores racial memory and retribution through the character of Black Adam. Cathy Thomas (University of California, Santa Barbara) provides a genealogy of justice for Black women from
Pattie Jo 'N' Ginger
to
Bitch Planet.
Leila Whitley (University of California, San Diego) presents critiques of patriarchy and carcerality in
Bitch Planet.
Jess Whatcott
(San Diego State University) moderates
.

Room 26AB
Are you tired of logging into a new game and finding dozens of Eurocentric characters, while offering only one Black male and one Black female character? Meet the BlackDevs, who are throwing some color into the game. They're about to do to the gaming industry what we've done to entertainment, sports, and medicine. Game must recognize game! Panelists will discuss emerging technologies in the gaming industry and how they will uniquely impact the Pan-African Diaspora. Panelists include Dr. Kishonna Gray, Ph.D. (associate professor, University of Kentucky, writing, rhetoric, digital studies, author of
Instructional Tech
), Carl Varnado (writer, consultant, Need For Speed Unbound, Street Fighter 6, Wylde Flowers), and Jabari Alii (Oakland site director, The Hidden Genius Project; game designer, The Walking Dead: Saints and Sinners Chapter 2: Retribution), HipHopGamer ("GOAT of Game Creators"; industry leader where the culture of Hip Hop meets games).
Professor Ajani Brown
, MFA (lecturer, Africana Studies Department, academic senator, San Diego State University) will introduce the participants. The moderator and panel organizer is Jimmy Diggs (original content producer, Screenwriter
Star Trek: Voyager, Star Trek: Deep Space Nine
).

Room 25ABC
Humans have been fascinated with the potential to gain superpowers for generations. Join a panel of scientific experts for a Q&A about the real-life science behind superhuman abilities. Would a lab accident really transform your DNA? Is it possible to harness regenerative powers from the animal kingdom? Could a mutation make you telekinetic? Hear about the up to date science and technology bringing humanity closer to becoming superheroes (and potentially supervillains). Melissa T. Miller (STEAMpop Network, Star Warsologies) moderates a panel of experts that includes Lataisia Jones, PhD (neuroscientist), Erika Anderson, MS (reliability engineer), Michelle Nolasco, Ph.D. (science communication consultant, SDSU), Ester Kwon, Ph.D. (nanoscale bioengineer, UCSD), and Catherine Schrankel, Ph.D. (cell biologist, SDSU).
Room: Grand 10 & 11, Marriott Marquis San Diego Marina